Please note that this site contains information about obsolete Debian releases; if you search for current data, please use
packages.debian.org
.
Paket: gv (1:3.5.8-17)
Links für gv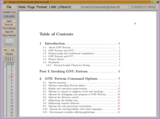 Debian-Ressourcen:
Quellcode-Paket gv herunterladen:
Betreuer:
Ähnliche Pakete:
A PostScript and PDF viewer for X using 3d Athena Widgets
`gv' is a comfortable viewer of PostScript and PDF files for the X Window System.
It uses the `ghostscript' PostScript(tm) interpreter and is based on the classic X front-end for `gs', `ghostview'. It is more comfortable and more powerful than `ghostview'.
Some features as e.g. PDF files or anti-aliasing are only supported if a recent ghostscript (4.0 or later) is installed. With anti-aliasing turned on, the text is very crisp and readable, with no `stepping' on the slants at all.
Andere Pakete mit Bezug zu gv