Please note that this site contains information about obsolete Debian releases; if you search for current data, please use
packages.debian.org
.
Paket: galeon (1.3.20-1)
Links für galeon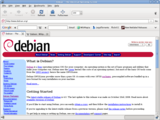 Debian-Ressourcen:
Quellcode-Paket galeon herunterladen:
Betreuer:
Ähnliche Pakete:
GNOME web browser for advanced users
A standards compliant web browser, which integrates well with the GNOME desktop environment. It does not include an email client, irc bot, website designer etc., therefore has a moderate resource usage. Internally the program uses Mozilla's Gecko rendering engine to display the web pages so is fully feature complete and standards compliant, as well as rendering pages quickly.
Homepage: <http://galeon.sourceforge.net/>
Andere Pakete mit Bezug zu galeon
galeon herunterladen
Download für alle verfügbaren Architekturen

| Architektur | Paketgröße | Größe (installiert) | Dateien |
| --- | --- | --- | --- |
| alpha | 819,0 kB | 2216 kB | [Liste der Dateien] |
| arm | 677,5 kB | 1540 kB | [Liste der Dateien] |
| hppa | 795,0 kB | 1948 kB | [Liste der Dateien] |
| i386 | 697,4 kB | 1560 kB | [Liste der Dateien] |
| ia64 | 903,3 kB | 2924 kB | [Liste der Dateien] |
| m68k | 666,9 kB | 1532 kB | [Liste der Dateien] |
| mips | 677,9 kB | 2460 kB | [Liste der Dateien] |
| mipsel | 673,9 kB | 2460 kB | [Liste der Dateien] |
| powerpc | 684,5 kB | 1644 kB | [Liste der Dateien] |
| s390 | 738,3 kB | 1848 kB | [Liste der Dateien] |
| sparc | 670,9 kB | 1540 kB | [Liste der Dateien] |