Please note that this site contains information about obsolete Debian releases; if you search for current data, please use
packages.debian.org
.
Paketti: man-db (2.3.16-4)
Links for man-db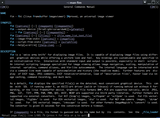 Debian-palvelut:
Imuroi lähdekoodipaketti man-db:
Ylläpitäjä:
Samankaltaisia paketteja:
Display the on-line manual.
This package provides the man command. This utility is the primary way of examining the on-line help files (manual pages). Other utilities provided include the whatis and apropos commands for searching the manual page database, the manpath utility for determining the manual page search path, and the maintenance utilities mandb, catman and zsoelim. This package uses the groff suite of programs to format and display the manual pages.
Muut pakettiin man-db liittyvät paketit