Please note that this site contains information about obsolete Debian releases; if you search for current data, please use
packages.debian.org
.
Paketti: xless (1.7-11)
Links for xless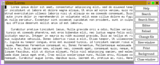 Debian-palvelut:
Imuroi lähdekoodipaketti xless:
Ylläpitäjä:
Samankaltaisia paketteja:
A file browsing tool for the X Window System
xless allows you to view information in an X window. It allows filename(s) arguments, or input via STDIN. It can print the current buffer and do regular expression searches.
Muut pakettiin xless liittyvät paketit