Please note that this site contains information about obsolete Debian releases; if you search for current data, please use
packages.debian.org
.
Paketti: libc6 (2.3.2.ds1-22sarge6)
Links for libc6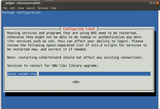 Debian-palvelut:
Imuroi lähdekoodipaketti glibc:
Ylläpitäjät:
Samankaltaisia paketteja:
GNU C Library: Shared libraries and Timezone data
Contains the standard libraries that are used by nearly all programs on the system. This package includes shared versions of the standard C library and the standard math library, as well as many others. Timezone data is also included.
Muut pakettiin libc6 liittyvät paketit
dep:

libdb1-compat

The Berkeley database routines [glibc 2.0/2.1 compatibility]
Imuroi libc6
Imurointi kaikille saataville arkkitehtuureille

| Arkkitehtuuri | Paketin koko | Koko asennettuna | Tiedostot |
| --- | --- | --- | --- |
| hppa | 4,275.9 kt | 14756 kt | [tiedostoluettelo] |