Please note that this site contains information about obsolete Debian releases; if you search for current data, please use
packages.debian.org
.
Paketti: gnome-terminal (1.4.0.6-5)
Links for gnome-terminal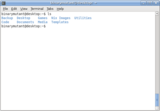 Debian-palvelut:
Imuroi lähdekoodipaketti gnome-core:
Ylläpitäjä:
Samankaltaisia paketteja:
The Gnome terminal emulator application
Gnome is the "GNU Network Object Model Environment"
It is a project to build a complete, user-friendly desktop based entirely on free software.
This package contains the Gnome Gtk-based terminal application (based on the zvt widget).
Muut pakettiin gnome-terminal liittyvät paketit
sug:

doc-base

Utilities to manage online documentation
Imuroi gnome-terminal
Imurointi kaikille saataville arkkitehtuureille

| Arkkitehtuuri | Paketin koko | Koko asennettuna | Tiedostot |
| --- | --- | --- | --- |
| alpha | 177.5 kt | 996 kt | no current information |
| arm | 170.8 kt | 802 kt | no current information |
| hppa | 174.2 kt | 960 kt | no current information |
| i386 | 171.1 kt | 952 kt | no current information |
| ia64 | 185.4 kt | 1040 kt | no current information |
| m68k | 170.3 kt | 952 kt | no current information |
| mips | 170.5 kt | 996 kt | no current information |
| mipsel | 170.1 kt | 996 kt | no current information |
| powerpc | 170.2 kt | 956 kt | no current information |
| s390 | 172.0 kt | 960 kt | no current information |
| sparc | 172.0 kt | 956 kt | no current information |