Please note that this site contains information about obsolete Debian releases; if you search for current data, please use
packages.debian.org
.
Paketti: xterm (4.1.0-16woody7) [security]
Links for xterm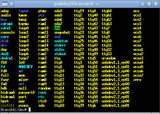 Debian-palvelut:
Imuroi lähdekoodipaketti xfree86:
Ylläpitäjä:
Samankaltaisia paketteja:
X terminal emulator
xterm is a terminal emulator for the X Window System. It provides DEC VT102 and Tektronix 4014 compatible terminals for programs that cannot use the window system directly. This version implements ISO/ANSI colors and most of the control sequences used by DEC VT220 terminals.
Muut pakettiin xterm liittyvät paketit
Imuroi xterm
Imurointi kaikille saataville arkkitehtuureille

| Arkkitehtuuri | Paketin koko | Koko asennettuna | Tiedostot |
| --- | --- | --- | --- |
| alpha | 514.4 kt | 1088 kt | no current information |
| arm | 484.2 kt | 996 kt | no current information |
| hppa | 499.2 kt | 1008 kt | no current information |
| i386 | 473.8 kt | 964 kt | no current information |
| ia64 | 554.5 kt | 1268 kt | no current information |
| m68k | 468.3 kt | 944 kt | no current information |
| mips | 495.5 kt | 1104 kt | no current information |
| mipsel | 495.2 kt | 1104 kt | no current information |
| powerpc | 482.6 kt | 992 kt | no current information |
| s390 | 482.1 kt | 992 kt | no current information |
| sparc | 481.1 kt | 984 kt | no current information |