Please note that this site contains information about obsolete Debian releases; if you search for current data, please use
packages.debian.org
.
[ Paquet source :
glibc
]
Paquet : libc6 (2.3.6.ds1-13etch10)
Liens pour libc6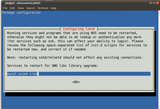 Ressources Debian :
Télécharger le paquet source glibc :
Responsables :
Paquets similaires :
GNU C Library: Shared libraries
Contains the standard libraries that are used by nearly all programs on the system. This package includes shared versions of the standard C library and the standard math library, as well as many others.
Autres paquets associés à libc6
dep:

tzdata

Time Zone and Daylight Saving Time Data
Télécharger libc6
Télécharger pour toutes les architectures proposées

| Architecture | Taille du paquet | Espace occupé une fois installé | Fichiers |
| --- | --- | --- | --- |
| s390 | 5 386,6 ko | 12132 ko | [liste des fichiers] |