Please note that this site contains information about obsolete Debian releases; if you search for current data, please use
packages.debian.org
.
Pakket: lynx (2.8.3-1)
Verwijzigingen voor lynx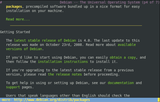 Debian bronnen:
Het bronpakket lynx downloaden:
Beheerder:
Vergelijkbare pakketten:
Text-mode WWW Browser
Lynx is a fully-featured World Wide Web (WWW) client for users running cursor-addressable, character-cell display devices (e.g., vt100 terminals, vt100 emulators running on PCs or Macs, or any other "curses-oriented" display). It will display hypertext markup language (HTML) documents containing links to files residing on the local system, as well as files residing on remote systems running Gopher, HTTP, FTP, WAIS, and NNTP servers.
Andere aan lynx gerelateerde pakketten
rec:

mime-support

MIME bestanden 'mime.types' & 'mailcap' en support programma's