Please note that this site contains information about obsolete Debian releases; if you search for current data, please use
packages.debian.org
.
Pakket: lynx-cur (2.8.6-9sarge1)
Verwijzigingen voor lynx-cur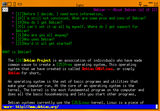 Debian bronnen:
Het bronpakket lynx-cur downloaden:
Beheerder:
Vergelijkbare pakketten:
Text-mode WWW Browser with NLS support (development version)
Lynx is a fully-featured World Wide Web (WWW) client for users running cursor-addressable, character-cell display devices. It is very fast and easy to use. It will display HTML documents containing links to files residing on the local system, as well as files residing on remote systems running Gopher, HTTP, FTP, WAIS, and NNTP servers.
This package contains a development version of lynx. For a known-stable version, please see the lynx package instead.
Andere aan lynx-cur gerelateerde pakketten
rec:

mime-support

MIME bestanden 'mime.types' & 'mailcap' en support programma's
lynx-cur downloaden
Pakket downloaden voor alle beschikbare platforms

| Platform | Pakketgrootte | Geïnstalleerde grootte | Bestanden |
| --- | --- | --- | --- |
| alpha | 1.970,0 kB | 4736 kB | [overzicht] |
| arm | 1.827,5 kB | 4220 kB | [overzicht] |
| hppa | 1.885,7 kB | 4312 kB | [overzicht] |
| i386 | 1.832,1 kB | 4000 kB | [overzicht] |
| ia64 | 2.104,8 kB | 5520 kB | [overzicht] |
| m68k | 1.755,4 kB | 4072 kB | [overzicht] |
| mips | 1.869,8 kB | 4944 kB | [overzicht] |
| mipsel | 1.866,4 kB | 4944 kB | [overzicht] |
| powerpc | 1.853,6 kB | 4304 kB | [overzicht] |
| s390 | 1.842,1 kB | 4312 kB | [overzicht] |
| sparc | 1.834,1 kB | 4312 kB | [overzicht] |