Please note that this site contains information about obsolete Debian releases; if you search for current data, please use
packages.debian.org
.
Package: aptitude (0.2.15.9-6bpo3) [backports]
Links for aptitude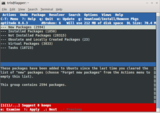 Debian Resources:
Download Source Package aptitude:
Maintainer:
Similar packages:
terminal-based apt frontend
aptitude is a terminal-based apt frontend with a number of useful features, including: a mutt-like syntax for matching packages in a flexible manner, dselect-like persistence of user actions, the ability to retrieve and display the Debian changelog of most packages, and extreme flexibility and customization.
aptitude is also Y2K-compliant, non-fattening, naturally cleansing, and housebroken.
Other Packages Related to aptitude