Please note that this site contains information about obsolete Debian releases; if you search for current data, please use
packages.debian.org
.
Package: caudium (2:1.2.35.1-1)
Links for caudium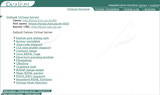 Debian Resources:
Download Source Package caudium:
Maintainer:
Similar packages:
An extensible WWW server written in Pike
Caudium is a modern, fast and extensible WWW server derived from Roxen. Caudium is by default compatible with Roxen 1.3 although some incompatible options, mostly introduced to improve the performance, security etc. of the server, can be turned on. Caudium features built-in log parsing engine (UltraLog), XSLT parser, native PHP4 support, multiple execution threads and many more features - see http://caudium.net/ and http://caudium.org/ for more information.
Other Packages Related to caudium
dep:

debconf (>= 0.2.26)

Debian configuration management system
sug:

roxen-doc (>= 1.3.122-1)

Package not available
Download caudium
Download for all available architectures

| Architecture | Package Size | Installed Size | Files |
| --- | --- | --- | --- |
| alpha | 2,515.1 kB | 10432 kB | [list of files] |
| arm | 2,512.4 kB | 10412 kB | [list of files] |
| hppa | 2,515.9 kB | 10424 kB | [list of files] |
| i386 | 2,511.8 kB | 9180 kB | [list of files] |
| ia64 | 2,522.5 kB | 10456 kB | [list of files] |
| m68k | 2,510.8 kB | 10408 kB | [list of files] |
| mips | 2,513.5 kB | 10444 kB | [list of files] |
| mipsel | 2,513.1 kB | 10444 kB | [list of files] |
| powerpc | 2,512.4 kB | 10412 kB | [list of files] |
| s390 | 2,513.7 kB | 10420 kB | [list of files] |
| sparc | 2,511.6 kB | 10412 kB | [list of files] |