Please note that this site contains information about obsolete Debian releases; if you search for current data, please use
packages.debian.org
.
Balík: ssh-askpass (1:1.2.4.1-3)
Odkazy pre ssh-askpass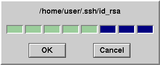 Zdroje Debian:
Stiahnuť zdrojový balík ssh-askpass:
Správca:
Podobné balíky:
under X, asks user for a passphrase for ssh-add
This is Jim Knoble's free implementation of the ssh-askpass program.
Jim calls this x11-ssh-askpass, but I've decided to call it ssh-askpass to make it easier to find, because this is almost certainly the version you want. The other two versions from the OpenSSH source are also available if you're interested (as ssh-askpass-ptk and ssh-askpass-gnome).
The non-free implementation is no longer being packaged. Its source is still available, as part of ssh-nonfree's source.
Balíky poskytujúce ssh-askpass
GTK+ password dialog suitable for use with ssh-add
Under Gnome2, asks user for a passphrase for ssh-add
under X, asks user for a passphrase for ssh-add
Ostatné balíky súvisiace s balíkom ssh-askpass