Please note that this site contains information about obsolete Debian releases; if you search for current data, please use
packages.debian.org
.
Paket: doxygen-gui (1.4.2-4)
Länkar för doxygen-gui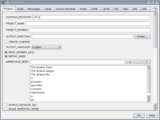 Debianresurser:
Hämta källkodspaketet doxygen:
Ansvarig:
Liknande paket:
GUI configuration tool for doxygen
Doxygen is a documentation system for C, C++ and IDL. It can generate an on-line class browser (in HTML) and/or an off-line reference manual (in LaTeX) from a set of documented source files. There is also support for generating man pages and for converting the generated output into Postscript, hyperlinked PDF or compressed HTML. The documentation is extracted directly from the sources.
This package contains doxywizard, a GUI configuration tool for doxygen.
Andra paket besläktade med doxygen-gui
Hämta doxygen-gui
Hämtningar för alla tillgängliga arkitekturer

| Arkitektur | Paketstorlek | Installerad storlek | Filer |
| --- | --- | --- | --- |
| alpha | 118,7 kbyte | 528 kbyte | [filförteckning] |
| arm | 100,2 kbyte | 344 kbyte | [filförteckning] |
| hppa | 109,3 kbyte | 384 kbyte | [filförteckning] |
| i386 | 103,6 kbyte | 328 kbyte | [filförteckning] |
| ia64 | 128,7 kbyte | 684 kbyte | [filförteckning] |
| m68k | 87,7 kbyte | 344 kbyte | [filförteckning] |
| mips | 91,9 kbyte | 568 kbyte | [filförteckning] |
| mipsel | 91,2 kbyte | 568 kbyte | [filförteckning] |
| powerpc | 100,3 kbyte | 364 kbyte | [filförteckning] |
| s390 | 86,9 kbyte | 388 kbyte | [filförteckning] |
| sparc | 94,6 kbyte | 360 kbyte | [filförteckning] |