Please note that this site contains information about obsolete Debian releases; if you search for current data, please use
packages.debian.org
.
Пакунок: knode (4:3.5.0-4bpo1) [backports]
Links for knode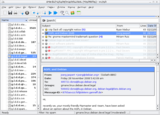 Debian Resources:
Download Source Package kdepim:
Maintainers:
Similar packages:
KDE news reader
KNode is an easy-to-use, convenient newsreader. It is intended to be usable by inexperienced users, but also includes support for such features as MIME attachments, article scoring, and creating and verifying GnuPG signatures.
This package is part of the official KDE pim module.
Інші пакунки пов'язані з knode