Please note that this site contains information about obsolete Debian releases; if you search for current data, please use
packages.debian.org
.
Пакунок: doxygen-gui (1.4.2-4)
Links for doxygen-gui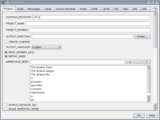 Debian Resources:
Download Source Package doxygen:
Maintainer:
Similar packages:
GUI configuration tool for doxygen
Doxygen is a documentation system for C, C++ and IDL. It can generate an on-line class browser (in HTML) and/or an off-line reference manual (in LaTeX) from a set of documented source files. There is also support for generating man pages and for converting the generated output into Postscript, hyperlinked PDF or compressed HTML. The documentation is extracted directly from the sources.
This package contains doxywizard, a GUI configuration tool for doxygen.
Інші пакунки пов'язані з doxygen-gui