Please note that this site contains information about obsolete Debian releases; if you search for current data, please use
packages.debian.org
.
Пакунок: libc6 (2.3.2.ds1-22sarge6)
Links for libc6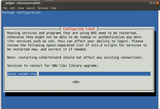 Debian Resources:
Download Source Package glibc:
Maintainers:
Similar packages:
GNU C Library: Shared libraries and Timezone data
Contains the standard libraries that are used by nearly all programs on the system. This package includes shared versions of the standard C library and the standard math library, as well as many others. Timezone data is also included.
Інші пакунки пов'язані з libc6
dep:

libdb1-compat

The Berkeley database routines [glibc 2.0/2.1 compatibility]