Please note that this site contains information about obsolete Debian releases; if you search for current data, please use
packages.debian.org
.
Package: gnome-utils (1.4.1.2-4)
Links for gnome-utils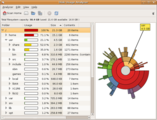 Debian Resources:
Download Source Package gnome-utils:
Maintainer:
Similar packages:
Gnome Utilities (gtt, gsearchtool, and more)
Gnome is the "GNU Network Object Model Environment". It is a project to build a complete, user-friendly desktop based entirely on free software.
This package contains some assorted utilities for use with the Gnome. These are:

  gcalc - a simple calculator
  gcharmap - character map viewer.
  gcolorsel - a color selector
  gdialog - a Gtk version of the 'dialog' program
  gdict - dictionary server query and display.
  gdiskfree - graphical disk free (df) utility.
  gfloppy - GUI for formatting floppy
  gfontsel - a font selector
  gless - a Gtk version of the 'less' pager
  gsearchtool - a tool for finding and grepping through files
  gshutdown - reboot or shutdown your machine
  gtt - a task timer/tracker
  guname - display 'uname' information about your system
  gw - display users on the system, like 'w'
  idetool - an IDE disk viewing tool
  logview - Log viewing applications.
  splash/splac - splash screen renderer
  stripchart - plot system measurements (including applet version)

Other Packages Related to gnome-utils
sug:

xsu

Allow users to run commands as root, after prompting for password.
Download gnome-utils
Download for all available architectures

| Architecture | Package Size | Installed Size | Files |
| --- | --- | --- | --- |
| alpha | 2,930.7 kB | 9964 kB | no current information |
| arm | 2,802.7 kB | 9432 kB | no current information |
| hppa | 2,858.7 kB | 9412 kB | no current information |
| i386 | 2,802.7 kB | 9404 kB | no current information |
| ia64 | 3,039.6 kB | 10536 kB | no current information |
| m68k | 2,785.2 kB | 9380 kB | no current information |
| mips | 2,821.1 kB | 9928 kB | no current information |
| mipsel | 2,817.4 kB | 9928 kB | no current information |
| powerpc | 2,808.3 kB | 9356 kB | no current information |
| s390 | 2,810.2 kB | 9388 kB | no current information |
| sparc | 2,819.7 kB | 9376 kB | no current information |