Please note that this site contains information about obsolete Debian releases; if you search for current data, please use
packages.debian.org
.
软件包: libc6 (2.1.3-20)
libc6 的相关链接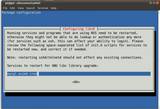 Debian 的资源:
下载源码包 glibc:
维护者:
相似软件包:
GNU C Library: Shared libraries and Timezone data
Contains the standard libraries that are used by nearly all programs on the system. This package includes shared versions of the standard C library and the standard math library, as well as many others. Timezone data is also included.
其他与 libc6 有关的软件包
dep:

ldso (>= 1.9.9-3)

The Linux dynamic linker, library and utilities.
rec:

locales

GNU C Library: National Language (locale) data [binary]