Please note that this site contains information about obsolete Debian releases; if you search for current data, please use
packages.debian.org
.
套件: gv (1:3.6.1-10sarge2)
gv 的相關超連結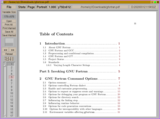 Debian 的資源:
下載原始碼套件 gv:
維護者:
相似套件:
PostScript and PDF viewer for X
gv is a comfortable viewer of PostScript and PDF files for the X Window System. It uses the ghostscript PostScript(tm) interpreter and is based on the classic X front-end for gs, ghostview. It is more comfortable and more powerful than ghostview. gv's upstream homepage can be found at http://www.gnu.org/software/gv/.