Please note that this site contains information about obsolete Debian releases; if you search for current data, please use
packages.debian.org
.
套件: gv (1:3.5.8-26.1)
gv 的相關超連結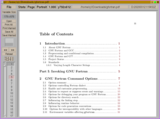 Debian 的資源:
下載原始碼套件 gv:
維護者:
相似套件:
A PostScript and PDF viewer for X using 3d Athena Widgets
`gv' is a comfortable viewer of PostScript and PDF files for the X Window System.
It uses the `ghostscript' PostScript(tm) interpreter and is based on the classic X front-end for `gs', `ghostview'. It is more comfortable and more powerful than `ghostview'.
下載 gv
下載可用於所有硬體架構的

| 硬體架構 | 套件大小 | 安裝後大小 | 檔案 |
| --- | --- | --- | --- |
| alpha | 266.9 kB | 780 kB | 沒有當前資訊 |
| arm | 237.7 kB | 676 kB | 沒有當前資訊 |
| hppa | 246.1 kB | 676 kB | 沒有當前資訊 |
| i386 | 220.8 kB | 652 kB | 沒有當前資訊 |
| ia64 | 306.5 kB | 948 kB | 沒有當前資訊 |
| m68k | 211.8 kB | 620 kB | 沒有當前資訊 |
| mips | 246.2 kB | 804 kB | 沒有當前資訊 |
| mipsel | 245.0 kB | 804 kB | 沒有當前資訊 |
| powerpc | 237.7 kB | 680 kB | 沒有當前資訊 |
| s390 | 227.3 kB | 668 kB | 沒有當前資訊 |
| sparc | 232.2 kB | 668 kB | 沒有當前資訊 |