Please note that this site contains information about obsolete Debian releases; if you search for current data, please use
packages.debian.org
.
Package: libc6 (2.3.6.ds1-13etch10 and others)
Links for libc6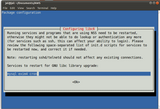 Debian Resources:
Download Source Package glibc:
Maintainers:
Similar packages:
GNU C Library: Shared libraries
Contains the standard libraries that are used by nearly all programs on the system. This package includes shared versions of the standard C library and the standard math library, as well as many others.
Other Packages Related to libc6
dep:

tzdata

Time Zone and Daylight Saving Time Data
Download libc6
Download for all available architectures

| Architecture | Version | Package Size | Installed Size | Files |
| --- | --- | --- | --- | --- |
| amd64 | 2.3.6.ds1-13etch10 | 4,084.7 kB | 9,572.0 kB | [list of files] |
| arm | 2.3.6.ds1-13etch10 | 3,851.3 kB | 8,968.0 kB | [list of files] |
| hppa | 2.3.6.ds1-13etch10 | 4,195.2 kB | 9,220.0 kB | [list of files] |
| i386 | 2.3.6.ds1-13etch10+b1 | 4,731.4 kB | 11,136.0 kB | [list of files] |
| mips | 2.3.6.ds1-13etch10 | 4,030.5 kB | 9,896.0 kB | [list of files] |
| mipsel | 2.3.6.ds1-13etch10 | 3,850.8 kB | 9,892.0 kB | [list of files] |
| powerpc | 2.3.6.ds1-13etch10 | 5,367.5 kB | 12,416.0 kB | [list of files] |
| s390 | 2.3.6.ds1-13etch10 | 5,386.6 kB | 12,132.0 kB | [list of files] |
| sparc | 2.3.6.ds1-13etch10 | 3,938.0 kB | 9,432.0 kB | [list of files] |