Please note that this site contains information about obsolete Debian releases; if you search for current data, please use
packages.debian.org
.
Paketti: gdb (4.18.19990928-1.0.1 ja muut)
Links for gdb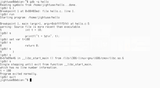 Debian-palvelut:
Imuroi lähdekoodipaketti gdb:
Ylläpitäjä:
Samankaltaisia paketteja:
The GNU Debugger
GDB is a source-level debugger, capable of breaking programs at any specific line, displaying variable values, and determining where errors occurred. Currently, it works for C, C++, Fortran Modula 2, Ada, Java and Objective-C programs. A must-have for any serious programmer.
Muut pakettiin gdb liittyvät paketit
Imuroi gdb
Imurointi kaikille saataville arkkitehtuureille

| Arkkitehtuuri | Versio | Paketin koko | Koko asennettuna | Tiedostot |
| --- | --- | --- | --- | --- |
| alpha | 4.18.19990928-1 | 1,431.2 kt | 2,795.0 kt | [tiedostoluettelo] |
| i386 | 4.18.19990928-1 | 1,099.6 kt | 1,928.0 kt | [tiedostoluettelo] |
| m68k | 4.18.19990928-1 | 1,050.4 kt | 1,766.0 kt | [tiedostoluettelo] |
| powerpc | 4.18-1.1 | 1,093.5 kt | 2,079.0 kt | [tiedostoluettelo] |
| sparc | 4.18.19990928-1.0.1 | 1,165.6 kt | 2,110.0 kt | [tiedostoluettelo] |