Please note that this site contains information about obsolete Debian releases; if you search for current data, please use
packages.debian.org
.
Paquet : survex (1.0.39.1-1)
Liens pour survex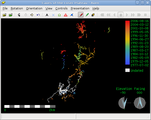 Ressources Debian :
Télécharger le paquet source survex :
Responsable :
Paquets similaires :
cave surveying and mapping software
A software suite to process, view, and print cave survey data. Survex is cross-platform (Linux/Unix, MS Windows, DOS, RISC OS). It includes English, French, German, Portuguese, Catalan, Spanish, Slovak, and Romanian internationalisations. It can deal with extremely large and complex datasets and can read survey data from many sources.
Homepage: http://www.survex.com/
Autres paquets associés à survex
dep:

libc6 (>= 2.3.5-1)

GNU C Library: Shared libraries

dep:

libx11-6

X11 client-side library

dep:

libxext6

X11 miscellaneous extension library
rec:

survex-aven (= 1.0.39.1-1)

sophisticated cave survey viewer for Survex
Télécharger survex
Télécharger pour toutes les architectures proposées

| Architecture | Taille du paquet | Espace occupé une fois installé | Fichiers |
| --- | --- | --- | --- |
| mipsel | 708,8 ko | 1 936,0 ko | [liste des fichiers] |