Please note that this site contains information about obsolete Debian releases; if you search for current data, please use
packages.debian.org
.
软件包: tripwire (1.2-15 以及其他的) [non-free]
tripwire 的相关链接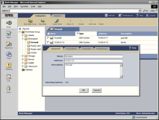 Debian 的资源:
维护者:
相似软件包:
A file and directory integrity checker.
Tripwire is a tool that aids system administrators and users in monitoring a designated set of files for any changes. Used with system files on a regular (e.g., daily) basis, Tripwire can notify system administrators of corrupted or tampered files, so damage control measures can be taken in a timely manner.